Past Event – Annual Surf Movie Fundraiser
11th Annual Surf Movie Fundraiser
FRIDAY FEBRUARY 9th 2018
OCEAN DRIVEN
This year's film is an empowering true story about overcoming obstacles and fears and becoming a BIG WAVE surfer! From youth, to surfing in the Mavericks contest, the story of Chris Bertish takes you around the world and then back to the most amazing Mavericks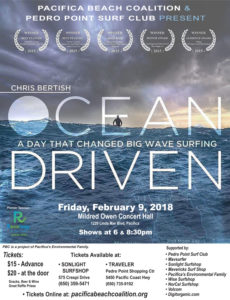 contest in history.  Local footage includes the massive waves of the 2010 contest (that washed over the spectators) and features local & big wave legends.
Come join us for an evening of big waves, amazing surfers, popcorn, beer from Pedro Point Brewery, wine, and fun on Friday, February 9th with programs at 6pm and 8:30pm to support the Pacifica Beach Coalition's Earth Day of Action & EcoFest event.
Special Guests: Mavericks Surfers!

Doors Open at:
5:30pm for 1st program 8:15pm for 2nd program
At Mildred Owen Concert Hall, 1220 Linda Mar, Pacifica
Tickets: $20 at the door – First come, first serve.
ONLINE: $15 in advance – online or at participating local outlet* in Pacifica.
"This PBC fundraiser is not just a movie, it is an event. Year after year it shares an inspiring insight into the ocean and the surfers & volunteers who love the ocean!"
-Pedro Point Surf Club's Greg Cochran
Click here to get large size poster.
——————————————————————————————————————————————-
ONLINE SALE – ONLY TICKETS FOR 8:30PM LEFT

Tickets available at the door: $20 – First come, first serve.
| | |
| --- | --- |
| | |
| Tickets for the 6:00PM Program | Tickets for the 8:30PM Program |
| SOLD OUT | |
NOTE: Online tickets are Will Call tickets. Shipping is our Flat Handling & Processing Fee

Secured payment via PayPal are received by Pacifica's Environmental Family, our fiscal sponsor. Please note: The billing company that will appear on your credit card or PayPal account is Pacifica's Environmental Family.

*PARTICIPATING TICKET OUTLET:
Sonlight Surfshop, 575 Crespi Drive, Pacifica (650) 359-5471
Traveler, 5450 Pacific Coast Hwy, Pacifica (650) 735-9192
——————————————————————————————————————————————-
About Ocean Driven:
A tale of overcoming obstacles as well as your own fears, inspiring viewers to never give up and lose sight of their dreams.
Chris Bertish comes of age in giant waves, leading to the Mavericks Invitational in 2010. Minutes after nearly drowning, he takes the world by storm.
An empowering true story about resilience with gripping scenes of a unique big wave brotherhood and the hardships they face.
About Chris Bertish:
Chris Bertish was winner of the Mavericks 2010, during the biggest waves in surfing competition history. in 2017, he became the world's first person to stand-up paddle, solo and unassisted across the Atlantic Ocean, raising support for charities and continuing to redefine possible.
www.oceandrivenfilm.com
——————————————————————————————————————————————-
DONATE TO THE DRAWING & AUCTION!
Be ready for a really fun and awesome drawing! Contact Dave at digitdave[at]pacificabeachcoalition.org for more details on making a contribution to one of the our most important benefit events of the year!

All proceeds benefit Earth Day of Action & Eco Fest on Saturday April 21st in Pacifica, Daly City, Montara & Half Moon Bay.

Hosted in partnership with Pedro Point Surf Club of Northern California www.pedropointsurfclub.org
Event Supporters: Recology, Pedro Point Brewery, Best Western Lighthouse Hotel, Hard Rock Cafe, Sonlight Surf Shop, Traveler, Mavsurfer, NorCal Surf Shop, Wise Surfshop, digitorganic.com, PIER 39, California Academy of Sciences, Sir Francis Drake Hotel, SF Electric Tour Company, Aquarium of the Bay, City Sightseeing, Pedro Point Brewing, Healing Intentions and our fiscal sponsor Pacifica's Environmental Family.
Read about past movie benefit events here.