Cancelled – Join the Fun, Join the ECOFEST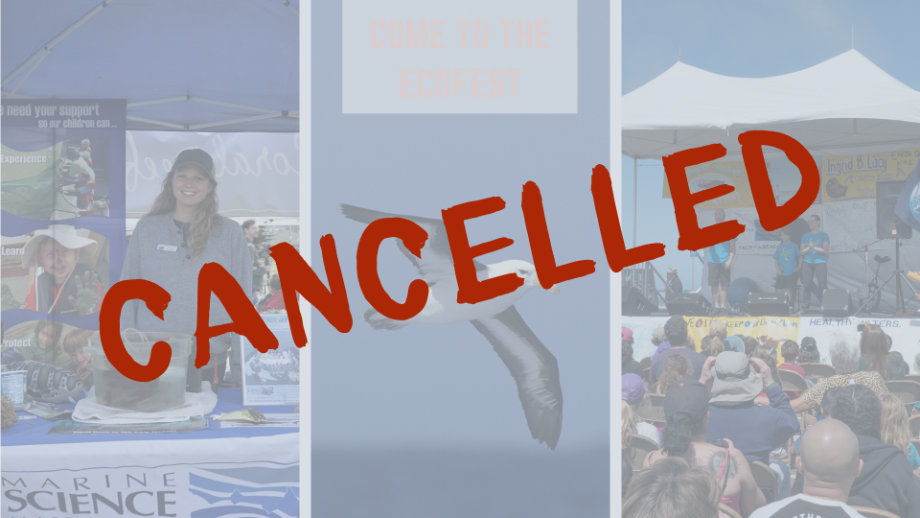 Due to COVID-19 and the current circumstances we are cancelling our 2020 EcoFest.
It is with extreme sadness that we are cancelling the 2020 EcoFest. We want everyone in our community to remain safe and healthy. Please still enjoy the Ocean and we hope that you can celebrate Earth Day and its 50th Birthday with your family and a small group of peers.
The EcoFest is a free event, fun and highly educational for families and individual of all ages that we organize after Earth Day of Action on Saturday April 25th.
Celebrating the Albatross, the Ocean and the many eco-heroes working to help both, this no-waste event blends live music, famed speakers, refreshments, eco booths, hands on activities, environmental and public safety resources, art and activism together for a memorable day of learning and fun! Help us be sustainable by bringing your own cup, plate and spoon or ride your bike and use our bike corral!
COME TO THE ECOFEST AFTER EARTH DAY OF ACTION
at Linda Mar State Beach
from 11:00am to 2:30pm
Be Super-Eco hike, bike, shuttle or carpool!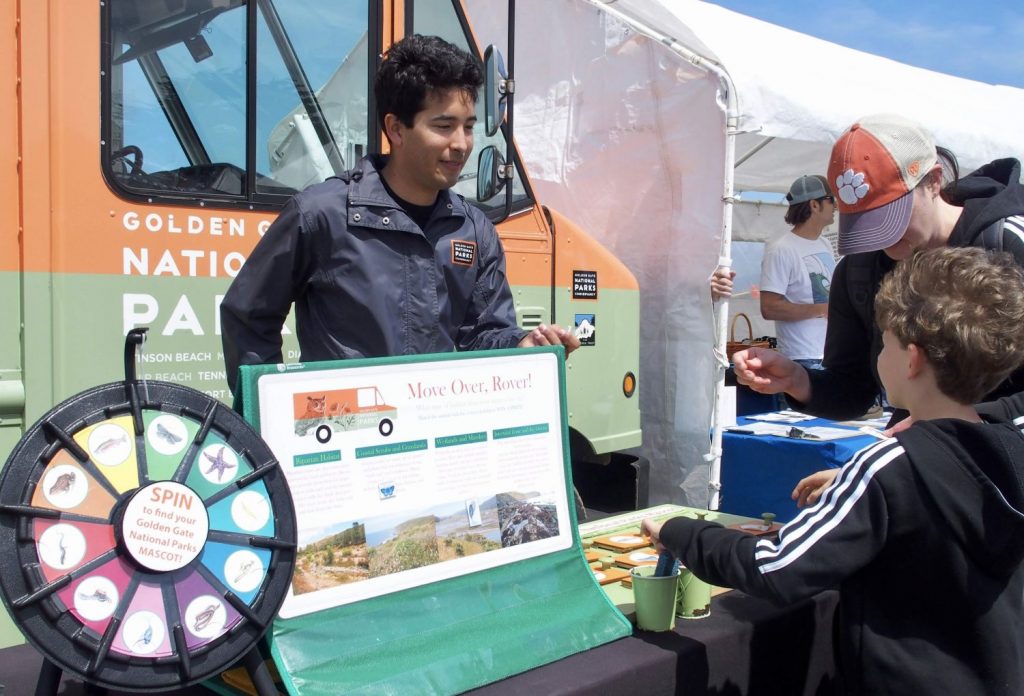 Free Family Friendly Event
The EcoFest is all about kid fun and education. During this festival you will learn about how you can easily make a positive impact on the environment on a daily basis while having a great time! Here are some of the highlights of our upcoming event:
Live Music – Petting Zoo – Arts & Crafts – Tide Pool Fun – Plastic Corral – Face Painting- Educational Booths – Bike Corral – Doggie Rest Station

Refreshments (proceeds to host):


BBQ Terra Nova Boosters
CHILI Pacifica School Volunteers
Complimentary:


CAKE Mazzetti's Bakery
COFFEE Starbucks
WATER Pacific Beach Coalition

Thank You To Our Sponsors
Every years these businesses and cities make the EcoFest possible. Without them we would not be able to put this incredible event together.

Live Entertainment, Music and Band
The Mermen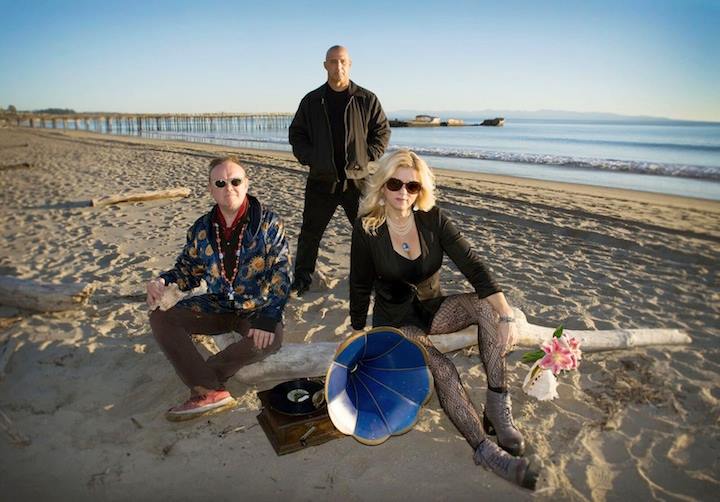 The Mermen are an American rock band from San Francisco, California that formed in 1989. The group's sound was originally rooted in instrumental surf and psychedelic music of the 1960s. Although their music delves into many genres, the sound is non-commercial and is mainly influenced by the band's founder, songwriter and guitarist Jim Thomas' modern melodic visions. The band's music is entirely instrumental and "does a good job of defying description", not fitting neatly into any musical genre. In concert, the Mermen always perform as a trio: electric guitar, electric bass, and drums. The Mermen have received an extraordinary amount of positive critical review from music press where the songs are described as "instrumental tone poems", "sonic landscapes", "wordless odes". With well over 100 original instrumental compositions to their name, the Mermen have a diverse, expansive repertoire spanning many moods. More on their website.
Keynote Speaker – TBD
How to Get to the EcoFest
FREE BEACH SHUTTLE BUS and FREE PARKING
Free Beach Shuttle from Cabrillo School, 601 Crespi Drive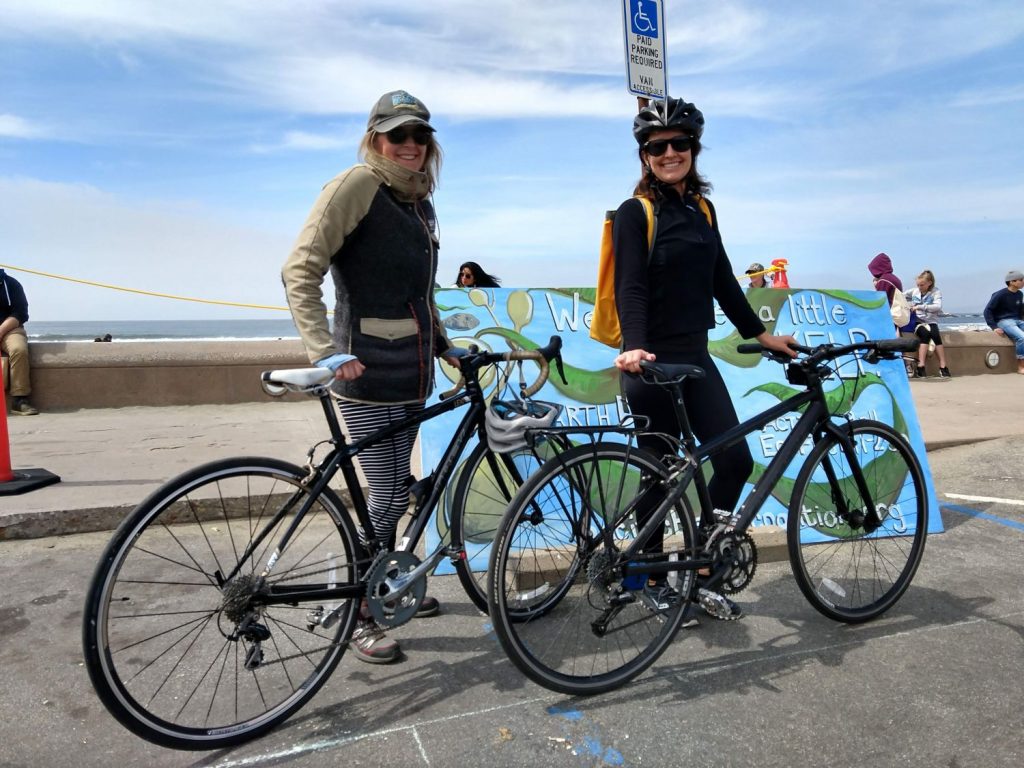 Parking near the Taco Bell will be very limited so please think about alternative way to come to the EcoFest. We will have free beach shuttle service and free parking at Cabrillo School 601 Crespi Drive.
Handicapped parking spots available near the Taco Bell.
The Beach Shuttle will drive from Cabrillo to Hwy one and go in the main parking lot, drop off in the corner of the main lot. It will then get back on Hwy 1 to the right, turn left on Linda Mar Blvd and turn left on DeSolo and left on Crespi and back to the Cabrillo stop.
There are two shuttles that will be spaced about 5 minutes apart.
Help Us Spread the Word by Sharing/Printing our EcoFest Poster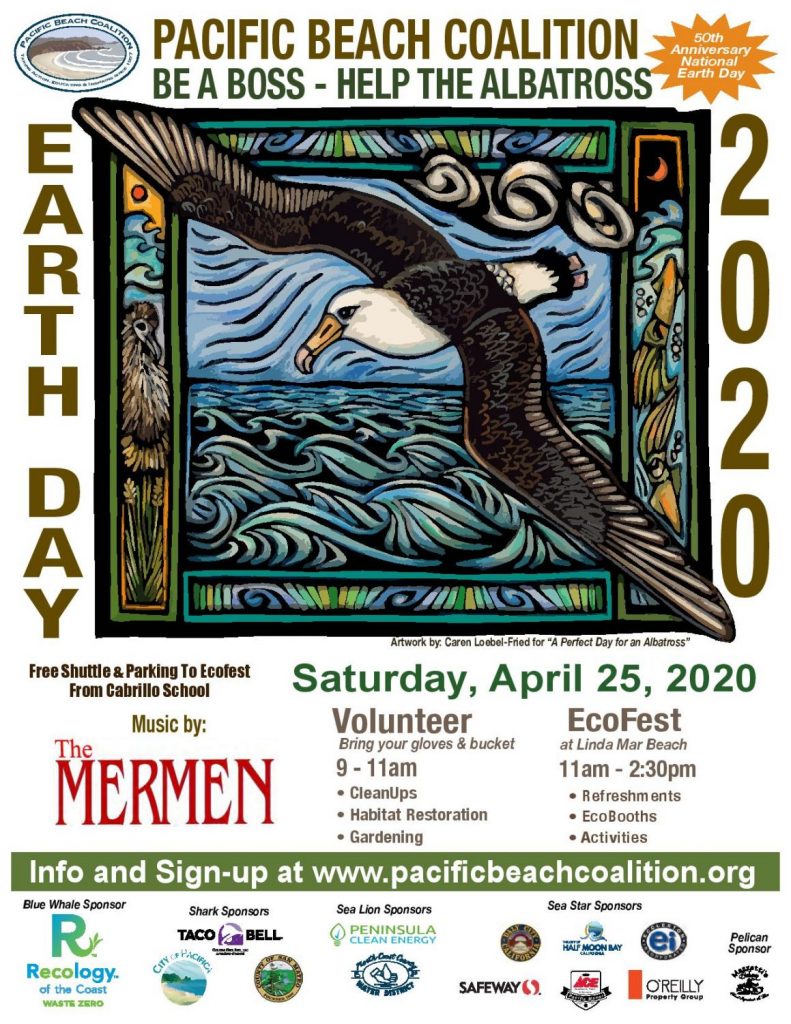 Earth Day of Action
The first part of our Earth Day of Action starts in the morning with volunteering actions happening along our beautiful coastline from Daly City to Half Moon Bay. Our eco-friendly projects include trash pick up on beaches, parks and streets as well as planting, habitat restoration, gardening and more…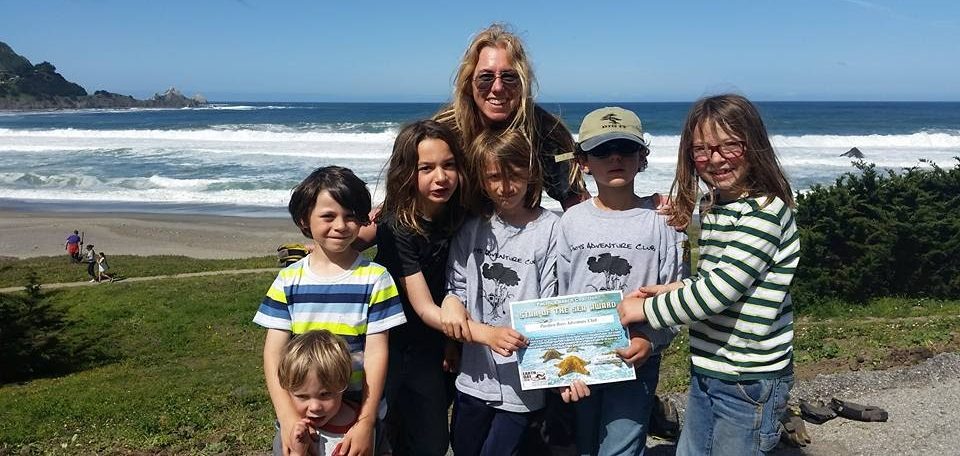 Thank You to Our Sponsors

Business, Non-Profit & Community Group:
American Cetacean Society – SF BAY Chapter
Bicycle and Pedestrian Master Plan Outreach
Golden Gate National Parks Conservancy
Greater Farallones Association
Green Kids Gardens
Marine Science Institute
North Coast County Water District
Ocean Shore School
Pacific Beach Coalition
Pacific Beach Coalition Plastic Corral
Pacific Coast TV
Pacifica 4-H
Pacifica Gardens
Pacifica Land Trust
Pacifica Ocean Discovery Center
Pacifica Parks, Beaches and Recreation
Pacifica Police Dept
Pacifica Public Works Stormwater/ Wastewater.
Pacifica Resource Center & Pacifica Prevention Partnership
Pacifica School Volunteers
Pacifica Shorebird Alliance (a project of PEF)
Pacifica Volunteers Think Bridge
Pacifica's Environmental Family
PBC Information Booth
Peninsula Clean Energy
Recology of the Coast
San Mateo County – GREEN STREETS
San Mateo County Libraries
San Mateo County Office of Sustainability
San Mateo County Parks Foundation
San Pedro Creek Watershed Coalition
Sanchez Art Center
Sea Shepherd Conservation Society Norcal Chapter
Starbucks
Surfrider – SMC Chapter
Terra Nova Band Boosters
The HEAL Project
The Marine Mammal Center
UC Santa Cruz KELP Team
Other:
Doggie Rest Station by friends of Sharp Park
Bike Corral